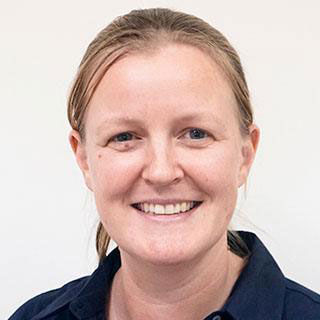 Cathy Tuckey
Physio Inq Licensee & Senior Physiotherapist
Physio Inq Licensee & Senior Physiotherapist
After qualifying as a physio from NZ in 2005, Cathy decided to seek fairer weather and moved to Brisbane to start her career.
In 2015 Cathy relocated to Perth, and after deciding to stay, she has taken ownership of Manning Physio in June 2018. She is excited about becoming part of the local community of Manning and bringing her unique style of physiotherapy to the area.
Cathy has post-graduate qualifications in Western Acupuncture and Dry Needling and is currently working her way through a Masters by Research degree at The University of Notre Dame in Fremantle. She treats all types of injuries and loves working with her patients to help them return from acutely injured/in pain, back to sport, work or their favourite leisure activities. She has had many years' experience running both mat and studio Pilates classes and believes that exercise should benefit both physical and mental health.
Cathy's areas of interest include Sacro-Iliac Joint (SIJ)/pelvic girdle pain, hip pain (including bursitis), back and neck pain, headaches, shoulder injuries, Temporomandibular Joint (TMJ) dysfunction and plantar fasciitis. Cathy also works with people with auto-immune arthritic conditions to help with pain management and advice on exercising with chronic conditions.
Cathy's favourite leisure activities include walking her dog (a standard poodle named Brian), gardening and anything creative (renovations, painting, sewing, cooking….). She has also represented New Zealand, Queensland and now WA in the sport of long-distance rifle shooting.
David McMullen
Senior Physiotherapist
Since graduating from Curtin University, David has practiced as a physiotherapist in South Perth Hospital and private practice settings. As the original founder of Manning Physiotherapy, he has offered professional and reliable physiotherapy services to residents in Manning, South Perth, Como and beyond for the past 20 years. As a local resident, David is a strong supporter of community groups such as sports clubs, schools, and retirement residences.
David's experience spans a range of areas including spinal rehabilitation, shoulder, hip and knee rehab after surgery and other acute surgical rehabilitation. He also treats sports injuries, headaches, shoulder, knee, foot, hand and back pain. David is a dedicated physio with a broad range of treatment skills, who enjoys establishing long-term working relationships with his patients.
Following the change of business ownership, David is taking more time to spend with his family and pursue his hobbies such as kite surfing, 4WD, and camping.
Emma Reid
Physiotherapist
Emma is a Curtin University graduate, local resident and premier league hockey player (for the Vic Park Panthers). She brings her passion for exercise and health to Physio Inq Manning and will be working closely with some of our local sporting clubs.
As a dedicated hockey player, Emma understands what it takes to play sport at a high level. She uses this knowledge to help sports people of all ages and levels recover from injury and achieve their sporting goals. Aside from managing sporting injuries Emma treats all types of musculoskeletal injuries and manages post-surgical rehabilitation programs.
When she is not working, Emma is either at hockey training, the beach, or watching a movie with her cats (she also makes and decorates amazing cakes!)
Areas of Interest
Exercise rehabilitation after surgery or injury
Sports injuries such as ankle, knee and upper limb injuries
ACL rehabilitation
Neck and Back pain
Veena Mistry
Physiotherapist
Veena qualified as a Physiotherapist in India in 2014 where she worked for several years in aged care and private Physiotherapy clinics prior to emigrating to Australia in 2018. Veena works with clients of all ages however she has a special interest in working with older adults to work on falls prevention and balance programs and manage acute and chronic musculoskeletal conditions. Treatment techniques include massage, manual therapy, electrotherapy, Pilates and exercise rehabilitation.
Outside of work, Veena makes a mean coffee and has watched more Christmas movies since moving to Australia than you can count on your fingers and toes. She is fluent in five languages including English and Hindi.
Areas of interest
Neck Pain, Headaches
Back pain
Post-Surgical Rehabilitation
Osteoarthritis management
Falls Prevention
Languages
English, Hindi, Sindhi, Marathi and Gujarati
Brett White
Massage Therapist
Having spent a large part of his life playing sport and being active, Brett finds that massage plays an important role in maintaining and improving his performance. Massage has become an integral part of his own routine, to keep him moving well and feeling good. Brett is passionate about helping others improve their lives through massage and exercise – giving them the tools to be able to look after themselves more effectively. From athletes to couch potatoes, old and young – Brett will work with you to achieve your goals.
Brett specialises in a number of massage styles and techniques including: Sports, Deep tissue, Trigger point therapy, Myofascial release, Proprioceptive Neuromuscular Facilitation (PNF), Muscle Energy Techniques (MET), Cupping and Strapping.
Brett will be available on Tuesdays, Thursdays and Saturdays. To book your session click here to book online, or phone us on 08 9450 4433.